MAC 4.0 Pharma
MAC 4.0 Pharma
The new MAC 4.0 economical air sampler was especially developed for the clean room, food, bio- and pharmaceutical industrie as well as similar industries. Microbiologically contaminated air may influence the quality of food and beverages and thus has a direct impact on the deterioration and shelf life of these products. To control and to improve these conditions is our mission.
 
The MAC 4.0 uses standard Petri dishes, is easy to handle, compact and has a favourable price. An electronic speed control guarantees for an accurate flow rate.
Technical specifications
Airflow 100 litres/minute
Rechargeable battery, autonomy approx. 2h
Body made from anodized aluminium
Sterilisable sampling head
Current disinfecting agents can be used for cleaning
Calibration with inbuild Anemometer
Dimensions
Height:: 7 cm
Diameter: 11 cm
Length: 15,5 cm
Width: 11 cm
Weight with recharge-battery: approx. 2 kg
MAC 4.0 SLT Options

MAC 4.0 SLT

Standard

MAC 4.0 SLTRange

Extender

 
Battery capacity
1.000mAh
6.800mAh
Auto Start Function
Standard
Standard
Altitude Measurements
Standard
Standard
Atmospheric Pressure
Standard
Standard
Humidity Measurements
Optional
Standard
Temperature Measurements
Optional
Standard
Printer Functionality
Optional
Optional
HOT Spot / WLAN Function
Standard
Standard
Exhaust collect
Optional
-
 
 
 
Operation Mode: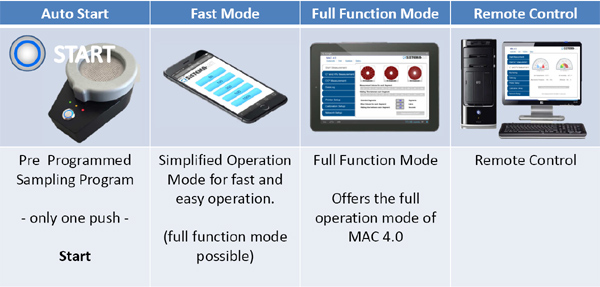 Air Monitoring : PHARMA
MAC 4.0 PHARMA

- Special Surface Treatment

- Power Plug coverd

- Covered LED

Controled by Smart Control

- Clean surface

- Minimum contact

- Smart Phone Interface for 

IPHONE and Android 5.1
Air Monitoring : Control
Control:
- Volume Selection
- Delay Selection
- Location Selction
Air Monitoring : Autostart
Auto start Activation:
Last setting will be 
saved on recalled at 
by re start of the 
MAC 4.0.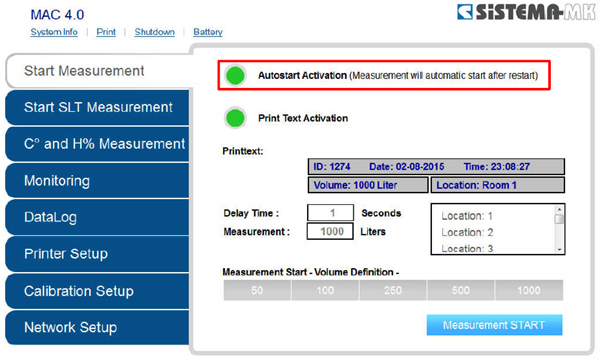 Air Monitoring : Print Selection
Print Selection:
- Label Print Text 
after Sampling

Air Monitoring for: Food & Beverage Industry / Environment / Hospitals
Enviromental Control: Temperature, Humidity, Barometric Pressure, Altitude
Enviromantal Sensors

The result of each measurement is saved in the data log
Slit to Agar - Air Monitoring
- Environmental Slit-to-Agar Sampler
- Ability to pin-point and isolate exact moment of contamination due to precision controlled plate rotation


Example:
66 Litres /Segment
990 Litres total
1h Waiting Time 

between Sampling 

Step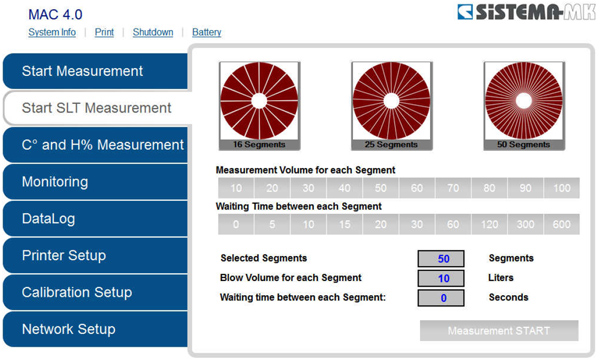 HOTSPOT MAC 4.0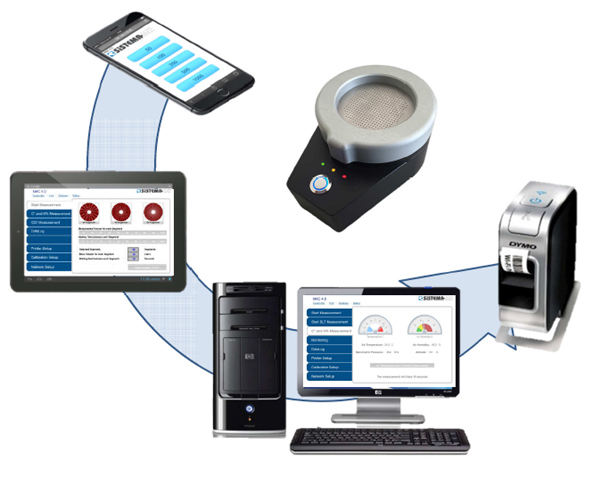 Measurement settings for monitoring
- Long time Monitoring
- Including blower or without 
blower
- Free programable blower time
- Free programmable waiting time
Hotspot Connection
MAC 4.0 works as router
Easy to access by connecting to the WLAN
Range extender provides a long distance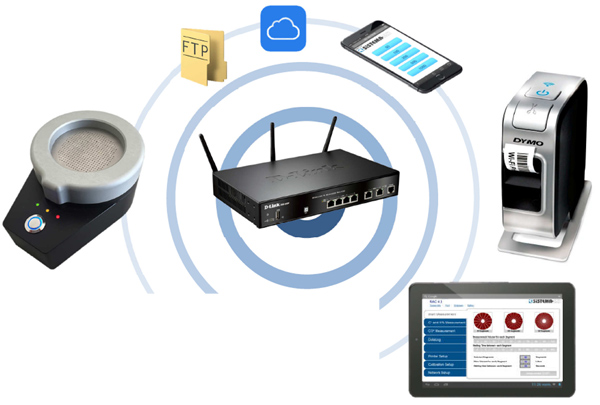 MAC 4.0 works as client
Easy to access by connecting to the customer WLAN
More as one MAC 4.0 could be connected and controled
Software Update by Network
Optional LAN connection instead of WLAN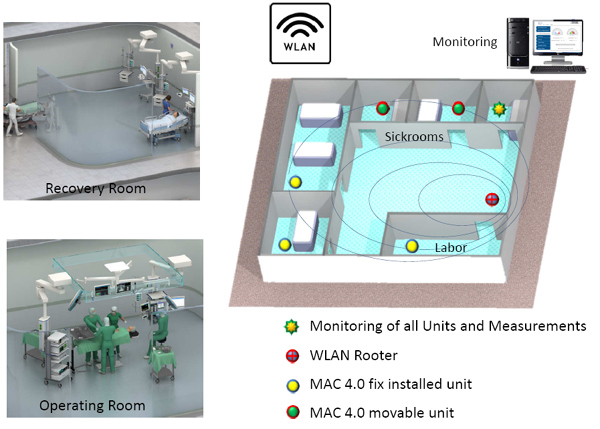 LIST OF AVAILABLE ACCESSORIES
MAC 4.0

BASIC/PHARMA

BATTERY CAPACITY @

1.000 MAH

MAC 4.0

BASIC/PHARMA

W/RANGE EXTENDER

BATTERY CAPACITY @

6.800 MAH

MAC 4.0

EXHAUST COLLECTOR

W/HEPA FILTER

EXHAUST AIR COLLECTOR

(EXHAUST AIR WILL BE

COLLECTED & HEPA FILTERED

MAC 4.0

PRINTER

WLANPRINTER

MAC 4.0

PACKAGING

SUITCASE FOR MAC 4.0

SERIES, PRINTER,

CHARGER, ETC.

MAC 4.0

TRIPOD

TRIPOD FOR MAC 4.0 SERIES

MAC 4.0

DUST COVER

DUST COVER

MAC 4.0

COMPRESSED AIR

MEASUREMENT

ADAPTER CONSISTS OF DOME

& DIFFERENTIAL PRESSURE

METER

MAC 4.0

TRIPOD ADAPTER

ATTACHMENT HOLE 3/8"

PLUS 1/4" OR 3/8" ADAPTER

MAC 4.0

WLAN REPEATER

WLAN RANGE EXTENDER

(REPEATERUP TO 20 m)

MAC 4.0

TABLET (HARDWARE &

INTERFACE)

TABLETHARDWARE &

SOFTWARE

MAC 4.0

IPHONE & ANDROID

INTERFACE

INTERFACE& APP FOR

IPHONE & ANDROID PHONE